On World Food Day climate campaigners criticise government for seeking special treatment for agriculture in EU climate negotiations
16 October 2014
Ahead of next week's crucial EU summit, where the EU's 2030 climate package will be agreed, Stop Climate Chaos has criticised the government for seeking special treatment for Irish agriculture. The coalition of 28 development, environmental, youth and faith-based organisations are concerned that the proposed text for the European Council meeting on 23rd October (leaked on 14th October) will result in an exception being made for Irish agriculture on the false assumption that Irish exports contribute to solving global food insecurity. 
SCC Coordinator Ciara Kirrane pointed out:
"The Intergovernmental Panel on Climate Change has concluded that climate change poses very significant challenges to food security. However, the Irish government has tended to suggest that action to tackle climate change, rather than climate change itself, threatens food security by restricting production here in Ireland. The notion that Irish exports of beef and diary contribute to global food security has been consistently refuted by overseas aid agencies. It is very worrying to read the leaked text which implies a such a link."
Ciara Kirrane also criticised the lack of reference to sustainable food consumption in the draft conclusions:
"Reference to intensification of food production fails to take account of the social and environmental impacts of production including the climate impact.  The leaked text ignores the role of sustainable food consumption, particularly reducing food waste and eating low-carbon food."
Stop Climate Chaos is calling on Heads of State and Government attending the European Council next week to make the following changes to the draft text:

- Recognise that climate change is the overwhelming threat to food security, not climate mitigation policies.
- Commit to sustainable food production and consumption, including minimisation of food waste and promoting sustainable diets.
Stop Climate Chaos hosts climate picnic as part of weekend of worldwide actions on climate change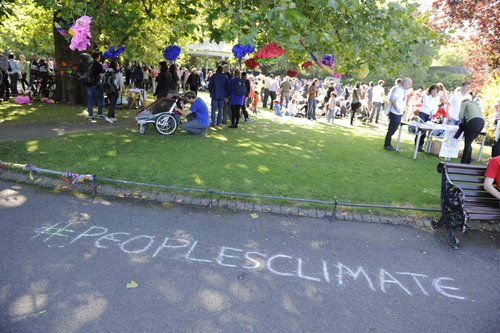 On Sunday 21st September Stop Climate Chaos, and our friends in Climate Gathering and People's Climate Ireland, hosted a picnic in St Stephen's Green as part of a worldwide mobilisation highlighting the need for action on climate change. It was one of 2,646 events that took place in 162 countries around the world that weekend. More people took to the streets calling for climate action than on any other day in history. Events from New York City to Rio, London to Delhi showed that people everywhere want to see world leaders doing more to tackle climate change.
Close to 1,000 people turned up to the Picnic in central Dublin where they were greeted by live music, circus performers, artistic activities, games, face-painting and more. Messages were gathered from picnicers about the things they love that they don't want to see changed forever by climate change. RTE news were there and the Picnic featured in national newspapers Monday 22nd.
Follow the link (http://www.stopclimatechaos.ie/gallery) to see photos from the Picnic, while images captured from around the world are here https://www.flickr.com/photos/peoplesclimate/sets/. A short photofilm from the Picnic - put together by Trocaire - can be viewed here http://youtu.be/rv3rNKQa6j8
Come join us for the People's Climate Picnic - Sunday Sept 21st
In less than three weeks, in cities and towns around the world, people will be getting together to show they care about climate change. You can be part of this worldwide movement by joining us for:
The People's Climate Picnic
Sunday September 21st from 12-2pm @ The Bandstand, St. Stephen's Green, Dublin 2

Bring a friend, food or just come for fun but make sure you're there to be part of this historic moment. RSVP here!

Two days later, in New York, leaders from around the world will be meeting for a summit on climate change. Taoiseach Enda Kenny will be there and we want to send a strong message to him that people in Ireland care about climate change. We care that climate change will impact upon the things and places we all love. And we care that world leaders are not doing enough.

We'll be providing you with the means to do so on the day so join us on the 21st to make your voice heard.

And if you want to hear more about how climate change is affecting communities around the world right now join Trócaire, Friends of the Earth & Stop Climate Chaos on Thursday 11th September for a public talk on
Climate Justice: Exploring Indian and Kenyan experiences and responses to climate change.
Speakers from India and Kenya will be there on the night to talk first-hand about their experiences of, and solutions to, climate change.

Thursday 11th September, 7pm, Central Hotel, Exchequer Street, Dublin 2.
RSVP: jheavy@trocaire.ie
Numbers are limited so book your seat in advance to avoid disappointment.

We hope that you can join us for both events!
EPA's warnings about Ireland exceeding it's emissions targets makes a climate law all the more urgent
29 May 2014
Stop Climate Chaos has today said the government must heed warnings from the EPA and bring the climate Bill to the Dáil before the summer recess. The coalition said the EPA's projections that Ireland will exceed its EU 2020 target of reducing emissions by 20 per cent were worrying but not unexpected, given Ireland's national climate change strategy ran out in 2012 and there has been nothing guiding action since.
Ciara Kirrane, Coordinator of Stop Climate Chaos, said 'The projections from the EPA reinforce why Ireland needs climate legislation and why Stop Climate Chaos and our member organisations have been calling for a climate law since 2007. The government is not taking its EU targets seriously, preferring to risk financial penalties from the EU than taking steps to reduce emissions. Having a climate law in place would mean these choices are not as easy and that the government would have to account for its inaction.'
Ciara Kirrane continued 'The evidence shows that we are going in the wrong direction. As well as missing our 2020 target, it's likely our emissions will be even higher by 2030. The government has allowed climate change to drift off the agenda with the economic crisis. Exceeding our targets not only puts us at risk of hefty fines from the EU but it also fails to recognise the connection between climate inaction and poor economic growth in the future.'
'The introduction of robust climate legislation can turn this situation around, but only if it makes clear what we want to achieve by 2050 and has the independent oversight to ensure that this happens. Minister Hogan committed to the introduction of climate legislation by the end of 2013. It is now essential that the revised heads, published last month, be debated before the summer so that we can see the passing of a climate law as soon as possible. This will be a significant step towards putting Ireland on a path to a low carbon future.'
Internationally the pressure to agree steps towards achieving a global agreement on climate change in 2015 is increasing. Next week ministers from around the world will meet in Bonn to discuss domestic action on climate change and future commitments. The convening of ministers at this meeting reflects the scale of the challenge and the importance of agreeing a global deal in Paris at the end of 2015. Stop Climate Chaos is disappointed that Minister Hogan is not attending these talks with his international counterparts, meaning Ireland will have less of a role to play and reflecting his low level of commitment to the issue.
Civil society organisations disappointed that the Climate Bill does not go far enough
23 April 2014
Stop Climate Chaos today acknowledges the publication of the long awaited revised Heads of the climate Bill but says the minimal changes that have been made since its release last year are disappointing. The coalition says the next stages will be essential to strengthen the Bill.

Stop Climate Chaos, a coalition of 28 civil society organisations campaigning on climate change, have been calling for the introduction of climate legislation since 2007. Last year the Government introduced draft Heads of Bill that Stop Climate Chaos believed was 'too weak to work'. The NGO coalition had high hopes for the revised Heads published today, given the thorough consultation process facilitated by the Environment Committee last year.

Commenting today, Ciara Kirrane of Stop Climate Chaos, said "We are disappointed that the revised Heads do not show significant improvements in the areas most needed. The Body tasked with giving advice to government on climate change matters is not independent, despite the advice from the Environment Committee that all members should be independent of State or stakeholder interests. And while the revised Heads allows for the Expert Advisory Body to publish its own reports, this is merely good practice in a transparent and functioning system."

"The government hasn't taken the opportunity to provide a clear vision of what Ireland wants to achieve by 2050. The language used is of a 'low carbon transition' but nowhere in the Bill is this defined. A three page policy document also published today gives us some guidance, but this had no legal standing and can be ignored or disregarded by any government that sees fit."

The revised Heads of the Climate Action and Low Carbon Development Bill come at a time of mounting pressure, with warnings from the scientific community that business as usual will lead us to catastrophic climate change. Ms Kirrane continued "The warnings show that no country will be untouched by climate change, and in Ireland unfortunately we are set to experience more flooding, with the associated economic and emotional costs, if we do not cut our emissions dramatically. While we will all be more vulnerable to extreme weather it is the poorest and most marginalised around the world who will suffer most. Left unchecked, climate change will continue to negatively affect food production and human health, and has the potential to reverse many of the gains made in reducing poverty over the last decades."

Stop Climate Chaos Responds to IPCC Report on Impacts of Climate Change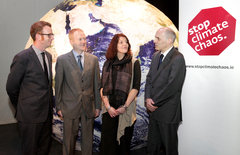 Leading campaigners on climate change give reaction to major international report and outline increased flooding risks for Ireland
Ireland will face an increased risk of extreme weather events, with more coastal and river flooding, unless the Government steps up action to contain climate change and urges its international counterparts to do likewise. That's according to Stop Climate Chaos, a coalition of 28 civil society organisations, who today (31.03.14) held a public briefing on the IPCC report in the Project Arts Centre in Dublin.
Stop Climate Chaos was responding to the publication of the second of four reports by the Intergovernmental Panel on Climate Change (IPCC), the UN body for the assessment of climate change. The report was prepared by over 800 leading scientists from 39 different countries over the past two years. It focuses on the impacts of climate change already being experienced, as well as future risks and adaptation strategies, and shows that with no adaptation, coastal flooding in the 2080s is projected to affect millions more people in Europe per year, with the Atlantic, Northern and Southern European regions most affected.
According to the coalition, the increased flooding risk that comes with extreme weather events could spell chaos for Ireland's economy.
"The report looks at how climate change impacts on people, plants, animals, the environment and the economy - and how we can adapt," explained Niamh Garvey, spokesperson for SCC. "We enjoy a temperate climate in Ireland, but that does not mean that we are exempt from the direct impacts of climate change. If climate change continues unchecked, the weather in Ireland will become more volatile and floods will be commonplace.
"An increase in flooding would have a negative impact on our economy and our quality of life. Earlier this year, we witnessed first-hand the chaos wreaked by flooding on people's homes, businesses and day-to-day lives. We are also seeing rising insurance costs and growing unwillingness amongst investors to place assets in areas affected by flooding. These are serious issues for coastal and island economies like Ireland.
"Even more serious are the impacts that will be felt by the poorest communities around the world. This report shows that we will all be more vulnerable to extreme weather but that it is the poorest and most marginalised who will suffer most. Left unchecked, climate change will continue to negatively affect food production and human health, and has the potential to reverse many of the gains made in reducing poverty over the last decades."
Government Action Required
Ms. Garvey called on the Government to strengthen its proposed climate legislation and put in place immediate steps to ensure we meet our emissions reduction targets in response to the IPCC report.
"The focus must now be on ensuring comprehensive government action that avoids the worst impacts of climate change," she said. "The Government published draft climate legislation this time last year which Stop Climate Chaos described as 'too weak to work'. However much good work was done by the Oireachtas Environment Committee to improve the legislation and in the revised Bill due next month, the Government must implement its recommendations. . They must also work with their partners at EU and international levels to achieve a global deal on climate change which they have promised in 2015.
"Without further action In Ireland, we will have exceeded our 2020 emissions targets as early as next year.. This will leave Ireland, and the taxpayer, facing financial penalties as well as missing the economic opportunities in making the transition to a low carbon economy. Clearly, the costs of inaction or delayed action are substantial. The time to prevent extreme climate change and reduce our emissions is now."
Speaking in advance of the event Professor Barry McMullin, a leading expert in societal responses to climate change and chair of the Climate Change Committee of An Taisce, said: "By taking action now, we can save lives and money. As climate change worsens, it will make people poorer, hungrier and more ill due to having to contend with more extreme flooding, heat waves and droughts. Delaying action on climate change will cost more and be less effective. Acting now will save lives and deliver many other benefits, such as green jobs and more sustainable economies, to our communities and the environments they depend on."
Come Rain or Shine - Join us in the Project Arts Centre Monday 31st March 1pm
As the IPCC releases its latest report on the impacts of climate change, Stop Climate Chaos asks what it means for Ireland and the rest of the world.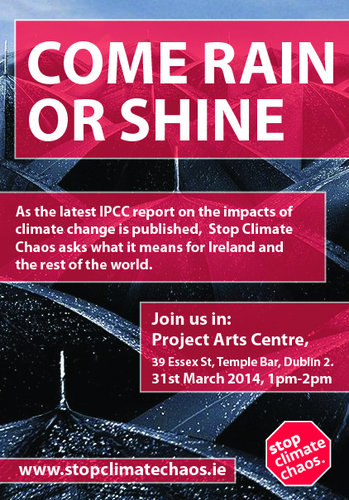 Join us in the Project Arts Centre, Temple Bar on Monday 31st March at 1-2pm for a discussion of the IPCC's latest findings and their implications for extreme weather, human health, food production and other key sectors.
Speakers will include Professor Barry McMullin (Executive Dean, Faculty of Engineering and Computing, DCU) and experts from development agencies who are dealing with the impacts of climate change first hand. The discussion will be chaired by Paul Melia, Environment Correspondent - Irish Independent.
Stop Climate Chaos calls on the European People's Party for stronger action on climate change
6 March 2014
As Dublin today plays host to the European People's Party congress, Stop Climate Chaos is calling on the leaders of some of Europe's most powerful countries to strengthen European action on climate change. The coalition is calling on delegates, including German Chancellor Angela Merkel and European Commission President José Manuel Barroso, to increase the ambition of the European Commission's 2030 Climate and Energy Framework proposal.
Ciara Kirrane from Stop Climate Chaos said 'Over the past year Europe has gotten a glimpse of how vulnerable we are to extreme weather events driven by climate change. Ireland, England and Wales have experienced their wettest winters on record and the floods that hit Germany and Central Europe last summer could become regular events if Europe does not act now to tackle climate change'.
'A climate and energy package that is in line with the science and ensures we contain climate change is what we need and expect from Europe. The package currently on the table is not nearly ambitious enough, and puts us in line to breaching what scientists believe are 'safe' levels of warming. European Commission President Barroso said in January that 'Climate action is central for the future of our planet' - we now want to see European leaders living up to that sentiment'.
Stop Climate Chaos says the 2030 Climate and Energy package needs to have stronger and more ambitious targets: at least a 55% reduction in greenhouse gas emissions, a renewable energy target of 45% and an energy savings target of at least 40%.
Coalition says EU has rolled back on its climate leadership
22 Jan 2014
Stop Climate Chaos is deeply disappointed with the unambitious white paper released by the European Commission today on the EU's 2030 climate and energy framework. With low targets for greenhouse gas emission reductions and renewable energy, and a non-binding target for energy efficiency, the paper is a very disappointing and significant roll-back on the climate leadership previously demonstrated by the EU.
The White Paper proposes a 40% reduction in greenhouse gas emissions by 2030, a target Stop Climate Chaos argues is inadequate to contain global temperature increases. Ciara Kirrane, Coordinator of Stop Climate Chaos, said today 'This proposal is not in line with science, and what is actually needed to meet the challenge of climate change. NGOs across Europe are calling for a greenhouse gas emission reduction target of at least 55%. If ambition is not raised, the EU's international pledge to stay below 2 degrees of global warming is all but impossible'.
The renewable energy target, something Ireland has publically called for along with 7 other member states, also falls far short of the ambition needed. 'The EU is already on track to meeting, and indeed exceeding, its existing targets for greenhouse gas emission reductions and renewable energy by 2020, demonstrating the EU's ability to stretch itself further and apply the level of action that is commensurate with the scale of the climate challenge' Ms Kirrane added.
'In order to keep its international climate pledges, and ensure devastating climate impacts for the world's most vulnerable people are avoided, the EU must adopt three ambitious, binding targets for greenhouse gas emission reductions, renewable energy and energy savings. Sadly, such determination is lacking in this White Paper.'
Stop Climate Chaos Responds to Oireachtas Committee Report on Climate Change Bill
20 Nov 2013
The Stop Climate Chaos coalition has welcomed a report on climate change legislation, published today (20.11.13) by the Joint Oireachtas Committee on Environment, Community and Local Government. However, the coalition said the report "missed an opportunity" by not suggesting specific carbon emissions reduction targets should be set for 2050.

Today's report was published by the Oireachtas Committee following an intensive series of hearings with stakeholders in recent months. It focuses on the outline heads of the Climate Change and Low Carbon Development Bill, and includes a number of observations on how the draft Bill can be amended and strengthened.

Commenting today, Oisín Coghlan, spokesperson for Stop Climate Chaos, said: "We very much welcome this report, and the fact that it proposes a number of improvements to the draft Climate Bill. It concludes that the advisory committee overseeing Ireland's progress on tackling climate change should have a stronger role than that proposed in the draft legislation. This is something Stop Climate Chaos has consistently said: the new climate law must provide for a properly independent oversight committee.

"The report also contains welcome suggestions on how to ensure our climate policies are rolled out in an efficient and effective manner. In particular, it's good to see suggestions to reduce the timeframe for national action plans from seven years to five, and to develop a national roadmap for tackling climate change in advance of sectoral roadmaps.

"However, one disappointing aspect of the report is that it falls shy of proposing that specific carbon emissions reduction targets should be set for 2050. Stop Climate Chaos remains convinced that the simplest and most effective way to ensure Ireland adheres to its commitment to reduce carbon emissions is by enshrining a numeric target in law. The fact that this hasn't been proposed in this report is a missed opportunity."

Stop Climate Chaos also said the publication of the report was a test of the Government's commitment to political reform.

"Minister Phil Hogan and his Government colleagues have consistently said Oireachtas Committees will play a central role in developing legislation in the future, and in consulting with relevant stakeholders in doing so," said Oisín Coghlan. "This is the process through which today's report has been developed. Therefore, we expect the Government to take this report's conclusions on board in preparing the final Bill. This will be a real test of their commitment to political reform."

Stop Climate Chaos is a coalition of 28 civil society organisations, including leading NGOs such as Trócaire, Concern, Oxfam, Christian Aid and Friends of the Earth. Further information is available at www.stopclimatechaos.ie.

Climate Change could cost Irish Agriculture up to €2 billion
24 Oct 2013
Research report highlights climate change threats and opportunities for Irish farmers
Ireland's agriculture sector will face losses of up to €2 billion per annum if climate change is allowed to continue unchecked. That's according to new research commissioned by the Stop Climate Chaos coalition on the projected economic impacts of climate change on Irish agriculture over the next 40 years. The research, published today (24.10.13), was carried out by Dr. Stephen Flood at NUI Maynooth.
It shows agriculture is one of the most climate-sensitive industries in Ireland, because its primary outdoor production processes depend on particular levels of temperature and rainfall. If current levels of climate change continue, winter rainfall will increase by up to 17 per cent by the 2080s, while summer rainfall will decrease by up to 25 per cent, with the largest reductions in the southern and eastern coastal areas.
These changes, according to the research, will result in more variable weather - including incidents of drought, flooding, heavy rainfall and extreme temperatures - which will, in turn, lead to changes in the range and prevalence of agricultural pests and diseases, increased stress factors for animals, changes in water availability and crop yields, and difficulties in providing sufficient resources for animals during certain periods.
Opportunities for Irish Farmers
The research also points to potential opportunities for Irish farmers arising from climate change: wheat and beet yields are projected to increase significantly by the middle of this century, and the outlook for Irish grain exports is promising, as other regions of Europe - for example, around Romania, Bulgaria, Hungary and Serbia - are expected to experience significant decreases in crop yields, due to increasing water shortages.
Commenting today, Niamh Garvey, spokesperson for SCC, said Ireland must act now to respond to climate change in a proactive manner, and to ensure our agriculture sector continues to thrive in the coming years.
"Adapting existing agricultural practices to take account of future climate change impacts is a prudent strategy," she said. "Potential adaptation actions include increasing crop diversity and varieties, altering planting and harvesting dates, planning for and implementing water supply management strategies, and supporting research to identify crops that can grow more successfully in the next 10 to 20 years, taking into account the expected changes in climate and growing seasons.
"Even more important than adaptation, of course, is mitigation. Rather than just accepting climate change, we must also continue to work to limit it. In this respect, we look forward to a robust climate law being introduced by government over the coming months, with clearly identified targets for emissions reductions and provision for a properly independent committee to oversee progress."
The research also stresses the need for the Department of Agriculture, Food and the Marine to invest sufficient resources in monitoring for economically damaging pests and diseases in both Irish livestock and crops. The 2012 fodder crisis, according to the research, exposed the potential vulnerabilities of the Irish livestock sector to adverse weather conditions. In a grass-based production system, such as the Irish beef sector, it's important to recognise the threat posed by future climate changes to silage, hay and pasture outputs, and to plan accordingly, the research report states.
Cooperation between the Farming and Environmental Sectors
Today's SCC launch was followed by a roundtable discussion on the research. Key stakeholders from the farming and environmental sectors participated, and the discussion was chaired by well-known television presenter Ella McSweeney.
According to SCC, the aim of the roundtable was to promote cooperation between the farming and environmental sectors.
"Climate change campaigners and farmers are not obvious bedfellows," said Niamh Garvey. "Traditionally, they have had an adversarial relationship, with each group believing the other fails to understand their point of view. This event aims to overcome the differences that have existed in the past, and to explore how we can work together to ensure Ireland's agriculture sector faces up to and adapts to climate change.
"There is an unfortunate assumption in Ireland that, with our temperate climate, our agriculture sector will be relatively unaffected by climate change and planning for more-of-the-same agriculture is relatively risk-free. As the research published today shows, this is not the case.
"Food security within the EU, and the future economic success of Ireland, are issues that affect us all, and we look forward to working with all relevant stakeholders in the future to address these issues."
Input by the Agriculture Minister
The Minister for Agriculture, Food and the Marine, Simon Coveney TD, officially opened today's event.
"The 'Food Harvest 2020' strategy sets out the industry's vision for Ireland's agri-food and fisheries sectors, including how they can generate increased levels of economic output and employment opportunities," he said.
"In continuously developing the agriculture sector, I am conscious of the need to take into account the projected impacts associated with future climate change. There is a large amount of work underway within my Department on climate change mitigation measures. In addressing climate change, it is essential that everyone plays their part and, in this regard, I am delighted to see key representatives of both the farming and environmental sectors here today, intent on finding ways to work together to ensure the ongoing success of Irish agriculture."
In addition to Minister Coveney, today's event was also addressed by Dr. Gary Lanigan, Research Officer with Teagasc; John Brennan of the Leitrim Organic Farmers group; and Dr. Stephen Flood, the author of the research report.
The report launched today is available to download here.
Pictured at the launch event today are the event chair Ella McSweeney, Minister Simon Coveney, and Niamh Garvey of Trocaire.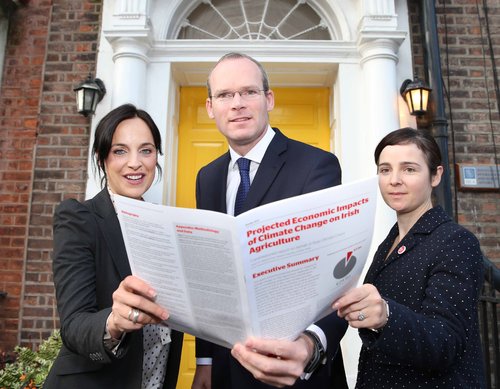 Research report highlights climate change threats and opportunities for Irish farmers
Cover image for Projected Economic Impacts of Climate Change on Irish Agriculture Oct 2013
24 Oct 2013
Commissioned report on behalf of Stop Climate Chaos
Author: Dr. Stephen Flood, Research Associate, ICARUS, NUIM
This report commissioned on behalf of Stop Climate Chaos presents projected economic impacts of climate change on Irish agriculture, especially in the light of increasing investment and intensification.
Agriculture is one of the most climate-sensitive industries in Ireland, as its primarily outdoor production processes depend on particular levels of temperature and rainfall. The report projects the total economic costs of climate change in the region of €1-2 billion per annum by mid-century. This figure represents 8.2% of the current contribution of the agricultural sector to the national economy annually, and at the upper level is greater than the Harvest 2020 targeted increase of €1.5 billion in primary output.
The full report is available to download here.
Stop Climate Chaos presents IPCC's Fifth Assessment Report
27 Sep 2013
Ireland's leading climate scientist Professor John Sweeney addressing the audience at today's Stop Climate Chaos public briefing on the fifth report from the Intergovernmental Panel on Climate Change (IPCC). More photos from today's event are available here: www.stopclimatechaos.ie/gallery/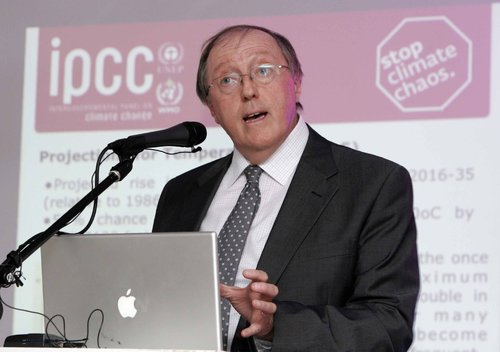 Join us in Science Gallery, Trinity College this Friday 27th September at 1pm for the launch of the IPCC latest report on Climate Change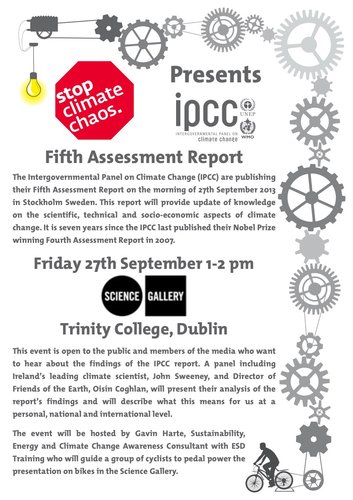 The Climate Bill Needs Targets and Teeth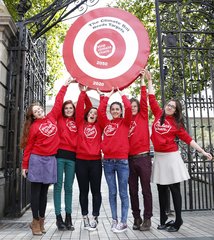 5 Jul 2013
In order for a Climate Bill to have any credibility it must contain targets for 2050, as well having an independent committee provide the oversight, Stop Climate Chaos said today.
Stop Climate Chaos, the coalition of 28 civil society organisations working together on climate change, were addressing the Environment Committee members today as part of the its process of hearing from stakeholders on the draft climate Bill.
Speaking to Environment Committee members today, Sorley McCaughey, Head of Policy and Advocacy, Christian Aid Ireland said, "This Bill doesn't have what is needed to be effective. Without a named target for 2050 there isn't certainty surrounding government policy, and the legislation won't deliver a low carbon Ireland. It is simply too weak to work."
Stop Climate Chaos recommended the Climate Action and Low Carbon Development Bill 2013 should include an emissions reduction target of 80 to 95% below 1990 levels for 2050.
EU leaders have committed to transforming Europe into a highly energy-efficient, low carbon economy by endorsing the objective of reducing Europe's greenhouse gas emissions by 80-95% by 2050. This Bill aims at a "low carbon climate resilient, environmentally sustainable economy" but doesn't define "low carbon". There is no justification for omitting this solid scientifically based objective from the Climate Action and Low Carbon Development Bill and without targets, slippage is inevitable.
"Putting these international commitments into domestic law will provide certainty for businesses and investors and will ensure timely and adequate action to cut greenhouse gas emissions. Without these targets set in national law there is a risk that the Government will not act in time to reach these targets. Without targets there is nothing in the Bill to drive the transition." said spokesperson for Stop Climate Chaos, Gavin Harte.
SCC also called for a strong Climate Change Commission, independent from Government with real powers of oversight and reporting. The coalition pointed out that last year the Government established a Fiscal Advisory Council which could serve as a model.