Campaigners show Government have their Heads in the Sand on climate change
Saturday, 4th July 2015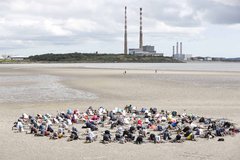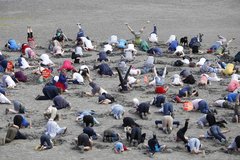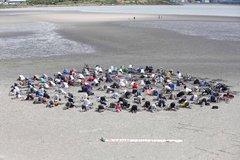 Over 150 people of all ages gathered today on Sandymount Strand to bury their heads in the sand, signifying what the organisers say is the government's attitude towards climate change. Stop Climate Chaos, the coalition behind the event, says that with just months to go until major global climate talks, the lack of government action on climate change is of serious concern.
Commenting, spokesperson for the coalition Sorley McCaughey, Head of Policy and Advocacy at Christian Aid, said:
"The government have their heads in the sand on climate change. They promised to pass the Climate Bill into law before the summer recess but it is yet to happen. We currently have no action plan to address Ireland's rising emissions, despite being among the worst in Europe when it comes to climate change emissions. And despite an embarrassing episode at the climate talks in Peru last December, where Ireland was one of only two developed countries not to pledge financial assistance to the Green Climate Fund, a fund which supports countries worst affected by climate change impacts, we still have made no financial commitment to the fund."
Continuing, Mr McCaughey said:
"All of this points to a serious lack of urgency on the part of the government. Failing to take action is resulting in the poorest communities in the world, who have done least to cause climate change, being hit the hardest, as was emphasised in the recent Encyclical by Pope Francis."
"This inaction is in contrast to the speed at which policy is developed in other areas, for example the agri-food sector, where the latest strategy, which allows for damaging increases in agricultural emissions, was developed in eight months and comes five years ahead of the expiration of the current Food Harvest 2020 plan. On the same day as the new plan for agricultural expansion was launched the government announced that they will not have to produce a new climate action plan until 2017, five years after the last plan expired."  
"If the same eagerness was applied to climate policy we could by now be availing of the economic, environmental and social benefits of transitioning to a low carbon future. Instead, we risk significant fines for missing EU targets as well as considerable reputational damage in view of the international climate negotiations in Paris at the end of this year."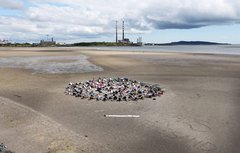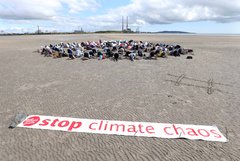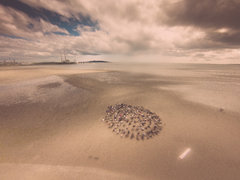 The government have their Heads in the Sand on climate change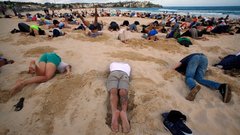 Our government aren't taking climate change seriously. We're only 5 months away from major climate talks that will decide the future of global climate action.
Yet the government are about to bring forward a Climate law that doesn't even set a target for emission reductions by 2050. They have no action plan for how to tackle Ireland's emissions and they have made no financial pledge to help support communities worst affected by climate change impacts.
It's clear that this government have their heads in the sand on climate change and we want everyone to know about it!
Join us for a mass photo stunt to highlight the inaction of our government on the most urgent challenge facing the world
Saturday 4th July 11.00 Sandymount Strand (here by the car park nearest city centre)

Bring your family, friends, buckets and spades (and sunscreen and towel!) and help us to get the message out that the time for action is now!
Government Climate Bill will fail unless critical weaknesses addressed
5 May 2015
The Government's Climate Bill "will fail to deliver the low carbon future its aims to achieve unless critical weaknesses are addressed", according to independent analysis carried out by an international environmental law organisation. ClientEarth compared the Climate Action and Low Carbon Development Bill against climate legislation around Europe. Their report finds that the lack of a 2050 target for reducing emissions produces critical uncertainty for investors and the status and membership of the Expert Advisory Council undermines its independence. Unless revised at Committee Stage in the Dáil, due this month, the Bill will do little to help Ireland meet its international commitments or move the economy onto a less polluting pathway.
Stop Climate Chaos, a coalition of 28 civil society organisations, commissioned the independent analysis. Commenting, Jim Clarken, CEO of Oxfam Ireland and member of Stop Climate Chaos, said:
"This report should set alarm bells ringing across Government. ClientEarth is the most recent addition to a long line of experts, including government backbenchers and a cross-party committee, to point out the shortcomings of the Bill. The report's main conclusion is that unless the Bill is revised it will do little to address the fact that Ireland is already struggling to meet its climate commitments.
"If the Government does not act on this advice and make the necessary amendments to the Bill it will be clear to all that they are not serious about tackling climate change and moving Ireland towards a decarbonised society. And despite the Government's often declared commitment to climate justice the Taoiseach would be going to the Climate Summit in Paris in December with a weak climate law with no targets."
Drawing on a number of climate laws across Europe, the report highlights the gap between what is proposed in the Irish Climate Bill and examples of best practice. Oisín Coghlan, Director of Friends of the Earth, said:
"The report shines a light on how poorly the Irish Bill compares to climate laws being designed and passed across Europe. As recently as March Finland passed a Bill that sets a legally binding target to cut greenhouse gas emissions by at least 80% by 2050 (compared to 1990) and creates an independent expert committee to advise the Government in planning climate change strategy. The Irish Climate Bill does neither. But we don't even need to look outside of Ireland for examples of best practice when it comes to providing government with expert independence advice. The Fiscal Advisory Council is a model that could and should be replicated in the Irish Climate Bill."
Jonathan Church, energy lawyer at ClientEarth and one of the authors of the report, said:
"This Bill is a golden opportunity for Ireland to encourage renewable energy investors by setting long-term, legally binding national targets which support the EU's targets. It doesn't do this. Furthermore, the UK experience has shown that a climate change committee needs to be independent of Government if it's to do its job properly. As things stand, the Expert Advisory Council doesn't look independent, and that alone will handicap it from the start. Unless these critical weaknesses are addressed the Bill will fail to deliver the low-carbon future it aims to achieve. Indeed, if this half-hearted Bill gives the false impression of 'job done', it could end up doing more harm than good to Ireland's efforts to tackle climate change."
The independent report comes a day before CEOs from Stop Climate Chaos member organisations are due to meet Minister Kelly to discuss the weakness of the Bill and the need to amend it at the Committee stage in the Dáil later this month.
Government rejects calls to change Climate Bill as it passes Second Stage
25 March 2015
Stop Climate Chaos has today expressed deep disappointment at the government's refusal to take on board concerns about the Climate Action and Low Carbon Development Bill, which today passed Second Stage. This is the first time a Bill designed to tackle climate change has passed Second Stage.
 Commenting this evening, Ciara Kirrane, Coordinator of the Stop Climate Chaos coalition, said:
"We are deeply disappointed at the government's unwillingness to listen to concerns expressed not only by Stop Climate Chaos but by their own party colleagues. Fine Gael and Labour backbenchers have voiced their concerns with aspects of the Bill in the Dáil in recent weeks but the Minister's statement today clearly shows that none of these issues will be addressed.
"The Government is also ignoring the advice from the Joint Oireachtas Committee on the Environment, Culture and the Gaeltacht. Seven of the ten proposals made by the Committee which require changes to the Bill have been disregarded by Government.
"These include some of the most important proposals for actually tackling climate change, such as a long term emissions reduction target and an independent advisory council. Minister Kelly has argued that setting national targets would interfere with the EU process but this just doesn't stand up. Other member states have managed to pass climate laws with long-term targets, the most recent of which is Finland which passed a climate law earlier this month with an 80% emissions reduction target for 2050. If the Government is going to reject such important recommendations they must find a stronger rationale for doing so."
As the Climate Action and Low Carbon Development Bill now progresses to Committee Stage Stop Climate Chaos is hopeful that amendments that will strengthen the Bill will be accepted by government.
European Commission criticises failure of Irish climate policy
'Policies to address climate-related commitments are insufficient'
26 Feb 2015
Stop Climate Chaos has today said it is unsurprised by the European Commission's findings that Ireland is failing to address climate change. In its 'Country Report Ireland 2015' the European Commission states that Ireland is likely to miss its EU 2020 target 'by a wide margin' and that climate-related policies are 'insufficient'.
Reacting to the report, Ciara Kirrane, Coordinator of Stop Climate Chaos, said:
"The fact that Ireland is off track is not news to anyone who is keeping an eye on Ireland's climate performance. But the Commission's criticisms should act as a wake-up call to Minister Kelly and the government.
The damning statement that 'No progress was made in identifying how Ireland commits itself to meeting its existing, binding climate and energy targets for the period up to 2020 in an integrated way' should be an embarrassment to the government. Clearly EU targets have not provided enough of an impetus for Ireland to make the necessary emissions reductions, which is why Stop Climate Chaos – and others – have been calling for the inclusion of a national long-term emissions reduction target in the Climate Bill.
The report comes just as the Second Stage reading of the Climate Action and Low Carbon Development Bill 2015 resumes in the Dáil, a Bill that both Fine Gael and Labour TDs have criticised. Ciara Kirrane continued:
Minister Kelly needs to listen to the concerns raised by his colleagues about this Bill, both in the Dáil and by the Oireacahtas Joint Committee on the Environment, Culture and the Gaeltacht in their comprehensive 2013 report. Only three of the ten recommendations from the Committee which required changes to the Bill have been acted on. A number of Fine Gael and Labour TDs, as well as opposition TDs, have highlighted weaknesses in the Bill. This is a critical piece of legislation in addressing Ireland's inaction on climate change but it's time Minister Kelly started to take on board the recommendations being made by his fellow TDs."
You helped make our Climate Bill Lobby Day a huge success – thank you!
On Tuesday 10th February Stop Climate Chaos held a day-long 'lobby' event in Buswells Hotel in Dublin, where people had the opportunity to meet TDs and tell them what you thought of the Climate Bill. It was a huge success so thank you for participating in whatever way you could.
Hundreds of people contacted their TDs and asked them to attend. More than half of all TDs showed up, which was an amazing achievement. Thanks especially to those of you who came to Buswells on Tuesday to meet your TDs in person. Some travelled from as far away as Kerry, Mayo, Galway, Clare and Leitrim to support our efforts. It was impressive to see the passion shown by so many people about tackling climate change and making sure the Climate Bill is the best it can be. You can see some great photos of the day here.
We know that TDs are listening. The Bill was debated in the Dail on Wednesday and Thursday and we really saw the impact of our efforts. Both opposition TDs and government backbenchers spoke about the weaknesses in the Bill and the need for a 2050 target, a definition of low carbon, independence of the advisory council and the inclusion of climate justice – all things we have been calling for. Many of them spoke of being contacted by constituents on these issues, so we know your emails and phone calls to them made a big impression. You can watch the debate in the Dail here to see whether your TD spoke out on the Bill. More TDs will be speaking on it next week so don't be too disappointed if your TD hasn't hasn't featured yet!
The Bill will be back in the Dail next week for the conclusion of the Second Stage. After that there are another couple of stages to get through before it can be passed. We'll be in touch with you at key moments over the coming weeks when we know some more pressure needs to be applied on our elected representatives.

Stop Climate Chaos wouldn't be effective if we didn't have people like you supporting us. So thanks again, for whatever action you took on the Climate Bill over the past days, months or years!
Meet your TD and tell them to fix the Climate Bill - Tuesday 10th Feb Buswell's Hotel
The Climate Bill is due to be debated this week and Stop Climate Chaos believes it is still too weak to deliver a low carbon future for Ireland.
We want you to meet your TDs on Tuesday 10th Feb in Buswells Hotel to tell them it needs fixing!
Stop Climate Chaos will be there from 11am-8pm to provide any support you might need.
The following TDs have committed to come to Buswells to discuss the Climate Bill:
TD
Time
Constituency
Lucinda Creighton (Ind)            
3.30-4.30                 
Dublin South East/Dublin Bay South                       
Kevin Humphreys (Lab)
NO TIME CONFIRMED
Dublin South East/Dublin Bay South

Ruari Quinn (Lab)

represented by PA

4.00
Dublin South East/Dublin Bay South
Mary Mitchell O'Connor (FG)
1.00-2.00
Dun Laoghaire
Eamon Gilmore (Lab)
NO TIME CONFIRMED                          
Dun Laoghaire
Michael Colreavy (SF)
2.30
Sligo-North Leitrim
Joan Collins (PBP)
2.30
Dublin South Central
Eric Byrne (Lab)
12.00
Dublin South Central
Michael Conaghan
NO TIME CONFIRMED
Dublin South Central
Brian Stanley (SF)
11.00-5.00
Laois-Offaly
Ivana Bacik (Lab)
2.30
Trinity Senator
Anthony Lawlor (FG)
2.00-5.00
North Kildare
Andrew Doyle (FG)
5.30
Wicklow

Stephen Donnelly (Ind)

represented by PA

4.00
Wicklow

Billy Timmins (Ind)

6.30
Wicklow

Simon Harris (FG)

NO TIME CONFIRMED
Wicklow-East Carlow
Marcella Corcoran-Kennedy (FG)
12.30
Laois-Offaly

Michael Healy Rae (Ind)

NO TIME CONFIRMED
Kerry South

Timmy Dooley (FF)

NO TIME CONFIRMED
Clare

Finian McGrath (Ind)

NO TIME CONFIRMED
Dublin North Central
Aodhan O'Riordain (Lab)
NO TIME CONFIRMED
Dublin North Central
Seamus Healy (WUAG)
2.00-3.00
Tipperary South
Dominic Hannigan (Lab)
4.00
Meath East
Helen McEntee (FG)
NO TIME CONFIRMED
Meath East
If there is no time confirmed beside your TD feel free to call their office, tell them you're planning to be there and ask for a meeting at a time that suits you both. If your TD isn't listed here there's still time to ask them to come along. Just call 01-6183000, ask for their office and invite them to attend! If you can't make it, Stop Climate Chaos staff will be happy to brief your TDs in your absence.
Deeply Disappointing that Climate Bill Ignores Oireachtas Committee Recommendations
Absurd that Bill delays climate action for two more years
Stop Climate Chaos has welcomed the publication of the long-awaited Climate Action Bill but described as "deeply disappointing" the Government's rejection of proposals by an Oireachtas committee to strengthen the Bill. According to the coalition of environment, overseas aid, youth and faith groups, three key recommendations of the Oireachtas environment committee, which held comprehensive hearings on the draft Bill and produced an all-party report, have been ignored.
Commenting, Stop Climate Chaos spokesperson, Oisin Coghlan, said:


"It's deeply disappointing that the Government is ignoring the proposals of the all-party Oireachtas Committee.
"This legislation is urgent, Ireland's emissions are already off-track and we are two years without a climate action plan. It's now up to TDs and Senators to fix this Bill and pass it into law as quickly as possible."

The Bill does not include the Government's own definition of low carbon, it doesn't guarantee the independence of the Climate Advisory Council, and it doesn't include the principle of climate justice - all recommendations of the Oireachtas Committee, chaired by Labour TD, Michael McCarthy.
David Healy, Policy and Advocacy Coordinator with Oxfam Ireland, commented:


"The Government hasn't even included a line in the Bill to say the Climate Advisory Council will be 'independent in the performance of it's functions', the formulation used for the Fiscal Advisory Council. If guaranteed independence is good enough for advice on the fiscal budget why not for climate policy?"

The Government has also ignored the Committee's proposal to include climate justice in the Bill.
Niamh Garvey, Environmental Justice Policy Officer with Trócaire, commented:
"The Government has voiced support for the principle of climate justice at the UN and co-hosted a conference on the issue with Mary Robinson as part of Ireland's EU presidency. Was that just lip service? Why is climate justice left out of the Bill?"

Stop Climate Chaos has been calling for "the principle of climate justice" to be one of the things that Ministers must have regard to when designing the national mitigation plan (section 3.2 of the Bill).
The only substantive change from the draft Bill produced by Phil Hogan a year ago is a negative one. The Government has delayed the adoption of a national mitigation plan with sectoral policy measures by at least another two years. Ireland's last emissions reduction plan expired at the end of 2012 just before our challenging 2020 EU targets came into force. The Government promised a new plan by early 2014. Then, last April Phil, Hogan's draft Bill mandated there be an action plan within 12 months of the climate law coming into force. Now, Minister Kelly's Bill gives the Government two years from the enactment to come up with actual measures to reduce emissions.
Oisin Coghlan concluded:
"It's absurd that the first consequence of the Climate Action Bill would be to delay climate action. It seems the Government wants to long-finger sectoral emissions reduction measures until after the next election. Our EU targets run from 2013-2020 and the Government is saying Ireland will adopt it's action plan to meet them sometime in 2017!"

The Bill now goes to the Oireachtas for debate, scrutiny, amendment and approval. As the Government has ignored the recommendations of the all-party Oireachtas environment committee, Stop Climate Chaos will be calling on TDs and Senators to fix the Bill and pass it into law as quickly as possible.

Notes
The Climate Action and Low Carbon Development Bill can be downloaded here:http://bit.ly/ClimateBill2015


Stop Climate Chaos's 4-page briefing on draft Bill should have been improved in this full Bill is here: http://www.foe.ie/download/pdf/scc_briefing_on_improving_the_climate_action_bill_november_2014.pdf
Campaigners express disappointment at another missed deadline on the Climate Bill
Government must recognise urgency of putting a framework in place to limit emissions
17 December 2014
After pitiful progress was made at international climate negotiations in Lima last weekend, campaigners have said they are disappointed to see yet another deadline pass on the introduction of climate legislation in Ireland. The Climate Action and Low Carbon Development Bill was expected to be published this week but it was dropped from the Cabinet's agenda yesterday and will now not be published until January.  
Commenting, Coordinator of Stop Climate Chaos Ciara Kirrane, said:
'Deadlines set by government for the introduction of the climate Bill have been repeatedly missed over the past 2 years. Phil Hogan said the Bill would be introduced by the end of 2013 and last week the Taoiseach said the it would be published before the end of the current Dáil session. Moreover, the Statement of Government Priorities for 2014-2016 committed to the enactment of climate legislation before the end of 2014. The slippage is disappointing and frustrating, considering we are now two years without a climate strategy. 
'At the UN climate negotiations in Lima last week, we saw a reluctance from governments to treat the climate crisis with the urgency required to meet a challenge of this scale. In order to stay below the internationally agreed temperature threshold of 2 degrees of warming we need to immediately reduce greenhouse gas emissions. Climate legislation provides a framework for achieving this and for ensuring accountability, which is why we have been campaigning for its introduction for the past number of years.
'What we now need to see in January is a prioritisation of the Climate Bill. We also need to see significant improvements in many important areas of the Bill, especially relating to how low-carbon is defined and whether the advisory committee is truly independent. The Bill must, at a minimum, take into account the recommendations of the Joint Oireachtas Committee on the Environment, Culture and the Gaeltacht who consulted widely on the draft Bill last year and arrived at a set of recommendations that were agreed to by all parties.'
UN climate negotiations fail to deliver for the poorest
14 December 2014
Stop Climate Chaos has today criticised the outcome of the UN climate negotiations, which concluded early on Sunday morning. The negotiations began on 1 December in Lima, Peru and ran two days over schedule.
Commenting Ciara Kirrane, Coordinator of Stop Climate Chaos, said:
"The outcome today does nothing to support the poorest people around the world who are on the frontline of the climate crisis, a crisis they did not create. For the past two weeks, developed countries have been trying to undermine the negotiations by eroding core principles related to their historic responsibility for the climate change. They have succeeded in this regard and have pulled back on providing support to developing countries. The process was supposed to build momentum towards an equitable agreement next year in Paris but unfortunately the foundations for this have not been laid in Lima.
"As well as failing to ensure developed countries contribute the necessary financial and technological resources to developing countries to help them cope with climate impacts, the agreement also fails us all given the scale of the climate crisis. The science on climate change is irrefutable but the Lima Accord does not put us on a pathway to keep global temperatures below 2°C, a threshold beyond which dangerous climate impacts are expected.
"World governments remain far from where they need to be if they are to make an adequate equitable agreement to tackle climate change in Paris 12 months from now. Ireland did not show leadership this week in Lima. It was one of the only countries not to pledge support to the Green Climate Fund, something that must be addressed in the coming months. They have a chance to show they are serious about tackling climate change when they publish the Climate Action and Low Carbon Development Bill this week, but it will depend on how strong the elements of the Bill are." 
Negotiations in a less than progressive place - Lima, Peru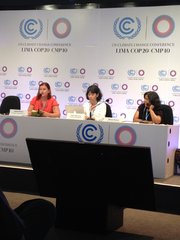 Arriving at my first ever international climate change negotiations had all the markings of a daunting and overwhelming experience. Thousands of delegates, numerous negotiation streams, countless meetings and side events – not to mention the 28°C temperatures adding to the pressure inside the negotiation halls.
From Ciara Kirrane, Stop Climate Chaos Coordinator, in Lima, Peru.
I arrived on Saturday which, although still a formal day of negotiations, was a quieter and more subdued day compared to previous days, according to my colleagues who had been here since 1 December. As a way of getting to grips with the main sticking points in the negotiations, I attended a press conference organised by Third World Network and Friends of the Earth International.
The split between developed and developing countries seems, as ever, immense and is proving to be a significant stumbling block so far in the negotiations. Developing countries are calling for adaptation (the process of coping and living with the impacts of climate change) to be included in the new agreement on an equal footing to mitigation (emission reductions). This would be a big difference to the Kyoto Protocol, which focused only on mitigation obligations. Adapting to the impacts of climate change requires resources – both financial and technological – and developing countries are calling for this because they are already dealing with the impacts of a warmer world, a world that has already warmed by 0.8°C and will see a further 0.6°C increase in temperatures irrespective of what we do in the coming decades to reduce emissions.
Of course developed countries are resisting this, and are actively trying to reduce their responsibility for the climate crisis by introducing new terms and concepts which are not a part of the framework convention on climate change, such as 'evolving' Common But Differentiated Responsibilities (CBDR is a principle in the convention which recognises historic responsibility and varying levels of capacity to act). Developed countries seem to be employing not so subtle methods of intimidation, making threats that if developing countries push these issues too hard the talks could fail. Whether this situation will improve over the coming 5 days remains to be seen.
Aside from this somewhat dismal situation, the week ahead looks fascinating. Tomorrow, the Cumbre de los Pueblos – an alternative People's Summit demanding climate justice, kicks off. It is being organised by Peruvian and international civil society organisations and will host a massive march on 10 December. Meanwhile an event tomorrow hosted by Shell will no doubt attract attention (stayed tuned for more info). Minister Alex White also arrives from Ireland tomorrow in advance of the high-level ministerial meetings happening from Tuesday to Thursday.
As the UN Climate talks get underway in Lima, campaigners call for leadership from developed countries
Stop Climate Chaos will be in Lima monitoring progress
1 December 2014
As the UN Climate talks get underway today in Lima, Peru climate campaigners in Ireland call for much needed leadership during the two week meeting. Stop Climate Chaos warns that unless delegations from developed countries make significant steps forward the talks will not progress, and the possibilities of achieving a global agreement in Paris next year will be even further away.
Ciara Kirrane, Coordinator of Stop Climate Chaos, said today:
"Unless the world's richest developed countries take responsibility for the climate change they have caused these negotiations will struggle to make progress. The proposals currently on the table fall far short of what is needed to prevent dangerous climate change. In order to address this, developed countries must put forward more ambitious quantified emission reduction objectives as well as clear contributions for climate finance and technology transfer to developing countries.
Ciara Kirrane, who will be arriving in Lima later this week, says Stop Climate Chaos will be eager to see developed countries, including Ireland, stepping up their levels of ambition:
"These talks take place against a backdrop of increasing concern about climate change. The scientific community has provided their most damning assessment to date of the state of the climate, while citizens around the world took to the streets in September to voice their fears about runaway climate change. Leaders and representatives of governments in Lima must heed these calls for action and put in place the necessary commitments to ensure this round of negotiations does not fail as so many other climate negotiations have in the past."
On World Food Day climate campaigners criticise government for seeking special treatment for agriculture in EU climate negotiations
16 October 2014
Ahead of next week's crucial EU summit, where the EU's 2030 climate package will be agreed, Stop Climate Chaos has criticised the government for seeking special treatment for Irish agriculture. The coalition of 28 development, environmental, youth and faith-based organisations are concerned that the proposed text for the European Council meeting on 23rd October (leaked on 14th October) will result in an exception being made for Irish agriculture on the false assumption that Irish exports contribute to solving global food insecurity. 
SCC Coordinator Ciara Kirrane pointed out:
"The Intergovernmental Panel on Climate Change has concluded that climate change poses very significant challenges to food security. However, the Irish government has tended to suggest that action to tackle climate change, rather than climate change itself, threatens food security by restricting production here in Ireland. The notion that Irish exports of beef and diary contribute to global food security has been consistently refuted by overseas aid agencies. It is very worrying to read the leaked text which implies a such a link."
Ciara Kirrane also criticised the lack of reference to sustainable food consumption in the draft conclusions:
"Reference to intensification of food production fails to take account of the social and environmental impacts of production including the climate impact.  The leaked text ignores the role of sustainable food consumption, particularly reducing food waste and eating low-carbon food."
Stop Climate Chaos is calling on Heads of State and Government attending the European Council next week to make the following changes to the draft text:

- Recognise that climate change is the overwhelming threat to food security, not climate mitigation policies.
- Commit to sustainable food production and consumption, including minimisation of food waste and promoting sustainable diets.
Stop Climate Chaos hosts climate picnic as part of weekend of worldwide actions on climate change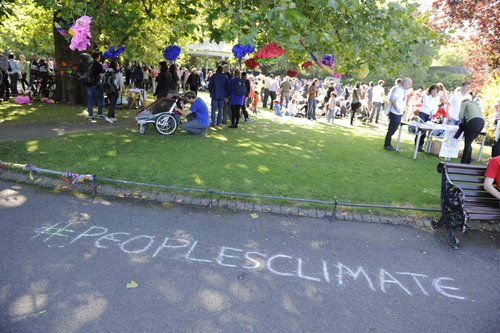 On Sunday 21st September Stop Climate Chaos, and our friends in Climate Gathering and People's Climate Ireland, hosted a picnic in St Stephen's Green as part of a worldwide mobilisation highlighting the need for action on climate change. It was one of 2,646 events that took place in 162 countries around the world that weekend. More people took to the streets calling for climate action than on any other day in history. Events from New York City to Rio, London to Delhi showed that people everywhere want to see world leaders doing more to tackle climate change.
Close to 1,000 people turned up to the Picnic in central Dublin where they were greeted by live music, circus performers, artistic activities, games, face-painting and more. Messages were gathered from picnicers about the things they love that they don't want to see changed forever by climate change. RTE news were there and the Picnic featured in national newspapers Monday 22nd.
Follow the link (http://www.stopclimatechaos.ie/gallery) to see photos from the Picnic, while images captured from around the world are here https://www.flickr.com/photos/peoplesclimate/sets/. A short photofilm from the Picnic - put together by Trocaire - can be viewed here http://youtu.be/rv3rNKQa6j8
Come join us for the People's Climate Picnic - Sunday Sept 21st
In less than three weeks, in cities and towns around the world, people will be getting together to show they care about climate change. You can be part of this worldwide movement by joining us for:
The People's Climate Picnic
Sunday September 21st from 12-2pm @ The Bandstand, St. Stephen's Green, Dublin 2

Bring a friend, food or just come for fun but make sure you're there to be part of this historic moment. RSVP here!

Two days later, in New York, leaders from around the world will be meeting for a summit on climate change. Taoiseach Enda Kenny will be there and we want to send a strong message to him that people in Ireland care about climate change. We care that climate change will impact upon the things and places we all love. And we care that world leaders are not doing enough.

We'll be providing you with the means to do so on the day so join us on the 21st to make your voice heard.

And if you want to hear more about how climate change is affecting communities around the world right now join Trócaire, Friends of the Earth & Stop Climate Chaos on Thursday 11th September for a public talk on
Climate Justice: Exploring Indian and Kenyan experiences and responses to climate change.
Speakers from India and Kenya will be there on the night to talk first-hand about their experiences of, and solutions to, climate change.

Thursday 11th September, 7pm, Central Hotel, Exchequer Street, Dublin 2.
RSVP: jheavy@trocaire.ie
Numbers are limited so book your seat in advance to avoid disappointment.

We hope that you can join us for both events!