16 June 2018 5:30pm - 8:00pm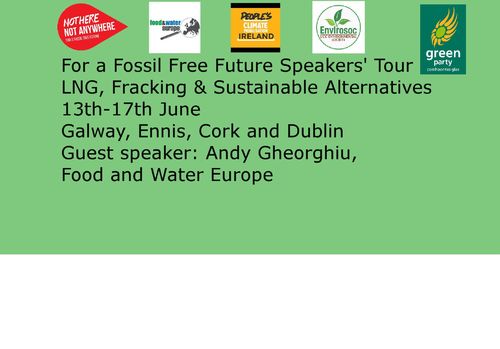 Climate change is here. The time for action is now. But governments are still pushing fossil gas. Why? And what can we do about it?
We now know that fossil gas is just as lethal for our world as oil or coal. But governments across Europe want more investment in fossil gas projects such as the Trans Adriatic Pipeline, the MidCat pipeline in Spain and France, and Ireland's Shannon LNG. Why is fossil gas still being termed a cleaner 'transition fuel'? And how do we respond?
This June, leading environmental campaigner Andy Gheorghiu comes to Ireland to talk about how we can transition without this dangerous 'transition fuel', adapt to change and develop resilience, locally and globally. Andy has been leading the campaign against the proposed building of Shannon LNG, a processing plant for imported fracked gas in the Shannon Estuary.
Andy brings the latest science, thought leadership and strategies for action. This is what changes means in 2018.Expect contributions from guest speakers and local group Not Here, Not Anywhere, refreshments and lively discussion at this unmissable talk.
Venue
Kane G18, University College Cork
Location Map