See below for a list of groups you can join to take positive action for the environment!
Know one that isn't listed? Get in touch by emailing meaghan@stopclimatechaos.ie
Save the Climate Emergency Measures Bill
Stop Fine Gael blocking it! [more about this action]
It is one year to the week since a majority of TDs in the Dáil voted to progress of the Petroleum and Other Minerals Development (Amendment) (Climate Emergency Measures/CEM) Bill, a Private Members Bill seeking to prohibit the issuing of licences for exploration of fossil fuels off Ireland's coasts. See the picture below for a hint of the public energy at that protest.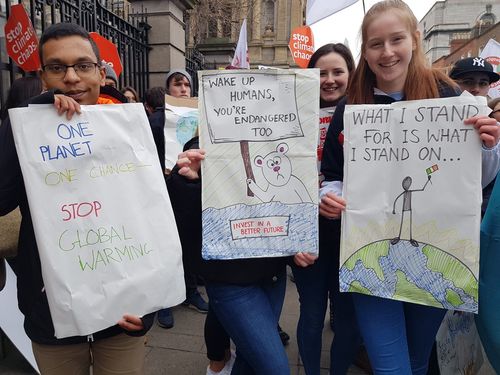 This is at a time when 80% of known fossil fuel reserves need to stay in the ground, when we have to cut our polluting emissions in half in less than 12 years to prevent climate catastrophe. This is not the time for further fossil fuel exploration or construction of new fossil fuel infrastructure.
But after intense lobbying by the fossil fuel industry, the future of the Bill now hangs by a thread and we need to come to its rescue. After the Dáil vote last year the Bill was sent to what's called a Select Committee of TDs for consideration. They decided to include Senators in their deliberations and the Joint Committee held public hearings on the pros and cons of the Bill. With Fine Gael siding with the fossil fuel industry the Joint Committee is deadlocked on the future of the Bill. A vote before Christmas to move the Bill to the next stage was tied.
The Bill is now caught in a procedural dispute as to whether it needs a majority of the Joint Committee of TDs and Senators to progress it, or just a majority of the Select Committee of TDs only.
The fair and reasonable approach is clear. This is a Dáil Bill. If a majority of TDs want to progress it, it should move forward to the next stage. Senators will get their own chance to vote on it if it passes all stages in the Dáil and moves to the Seanad, they shouldn't be able to thwart the will of TDs at this point.
On Tuesday February 19th, the Committees will meet again to try and break this deadlock, and we need to make it clear that voters want TDs to be able to decide on the Bill.
Now is your chance to email your local Fine Gael TD and ask them to write to the chair, their party colleague Hildegard Naughton, on your behalf to ask her to let TDs vote. What's more, they can ensure their party as a whole, including senators, respect parliamentary process and let TDs do their job.
 Want to know more? Stop Climate Chaos – the civil society coalition campaigning for Ireland to do its fair share to tackle climate change – has produced a new briefing outlining five main reasons why the Bill should move to Third stage without delay. We believe this Bill is necessary , practicable and in the national and global interest.
Step One
Select your constituency
Click on the map to pick your constituency or select it from the dropdown list.