5 simple things you can do to support the Climate Emergency Measures Bill
February 5 2018, 01:15pm
This Wednesday February 7th could prove to be a turning point for Irish climate policy.
The Climate Emergency Measures Bill [1] introduced by Bríd Smith TD, People Before Profit, will be debated this Wednesday at 3:35pm. If you aren't sure what all that is about, you can watch this short video. Essentially, we can't burn four fifths of the fossil fuels in the ground. So why dig them up?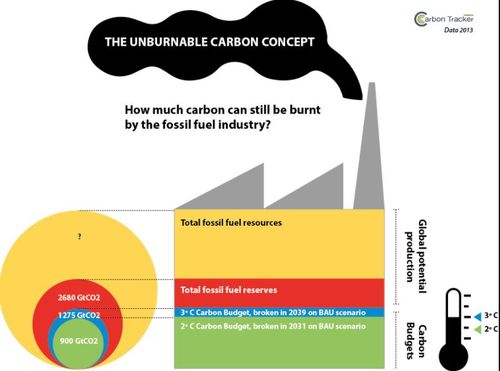 This Bill could herald an end to drilling for oil and gas in Ireland - and we want to ensure that the Bill gets referred to committee for proper consideration. Let's push our TDs to vote to support this Bill, bringing it to the next stage. The fracking ban started life just like this one, as a private member's Bill with little or no chance of becoming law. And within 18 months it was passed with all party support.
Here are 5 things you can do to help:
1. Contact your TD
This evening, Monday February 5th from 5pm, the Not Here Not Anywhere campaign group are hosting a phone bank in Comhlámh*, 12 Parliament Street Dublin 2 at 5pm to call TDs and explain why they should vote YES to the Climate Emergency Bill. They will have a short script with some key facts about offshore drilling so just bring yourself and a passion for policy change! Check out the event here.
If you haven't done so already, take our simple online action to contact your local TDs.
2. Join us to demonstrate on Wednesday 1pm
On Wednesday at 1pm, join the Stop Climate Chaos coalition, the Not Here Not Anywhere campaign group and People Before Profit outside the Dáil (Kildare Street side) as we demonstrate why this Bill should progress to the next stage. See the event here.
3. Attend the Dáil debate on Wednesday 3:35pm
A) Call the Dáil on 01-6183000, ask for your local TD and ask them to put you on the list for gallery attendees for the debate.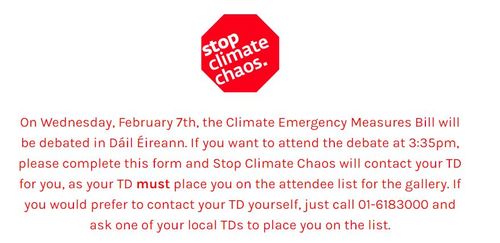 b) Complete this simple form and we will contact your TD on your behalf!
4. Make something!
Make a placard for the demo! Slogans we are using include 'Oil be having none of this!' 'Support the Climate Emergency Measures Bill', and 'If we can't burn it, why dig it up?' Hashtags to be used on the day can be found in the social media guidelines here.
5. Support on social media
If you can't be there on the day, you can help remotely via social media. See the social media guidelines for the event here. And here is a list of all members of the 32nd Dáil and their contact details.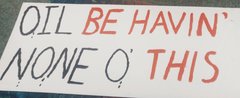 The push for policy change comes from the grassroots, from people just like you. Don't sit back while change is happening. Be part of it.
*The room is up a number of flights of stairs and unfortunately there is no lift. Sincere apologies if this restricts your involvement in this activity.
[1] https://www.oireachtas.ie/viewdoc.asp?DocID=37204&&CatID=59
[2] https://www.carbontracker.org/wp-content/uploads/2017/09/383E589F-D906-4633-900F-1503378655FC.png