Save the date!
Meet your TD on 5th December when we Rise for Climate, Jobs and Justice
October 25 2018, 05:21pm
"We are scared, we are angry."
That was the headline in the Irish Times the evening of Tuesday October 16th, as a few hours earlier hundreds of people gathered outside the Dáil to demand Climate Action Now (check out some pictures from the event here).
Are you scared and angry too? Then save the date to meet your TD to talk to them about climate change.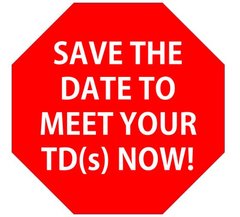 The news that we have a mere 12 years at most to implement "rapid, far-reaching and unprecedented" action in order to limit global warming to 1.5ºC has caused ripples of alarm across the world and Ireland. Even though the difference between 1.5C and 2C doesn't seem very large, it is the difference between life and death for millions of people across the world. And we're running out of time.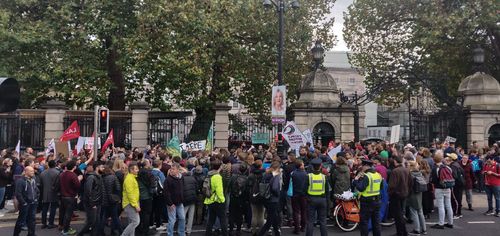 But the solutions exist.
The Citizens' Assembly has given the government a neatly-packaged list of 13 recommendations that, if implemented, would help us reach "net zero" emissions by 2050 and avoid climate chaos.
However, the government are stalling, they are not listening to citizens, and they are actively holding back the transition to a fossil-fuel free future.
For example, they are:
Planning on building liquefied natural gas terminals to import fracked gas from the US.
Allowing the importation of coal, the dirtiest fossil fuel, from Colombia.
Preventing the quick passage of the Climate Emergency Measues Bill.
But you, a constituent, can have an opportunity to talk to your TD(s) face-to-face about these issues. TDs keep telling us that "climate change isn't a doorstep issue" - but now we have a chance to change that.
Save the Date for Stop Climate Chaos' TD lobby day, 'Rise for Climate, Jobs & Justice'
On Wednesday December 5th, the Stop Climate Chaos Coalition will be hosting a TD lobby day in Buswell's Hotel, Dublin. This will be an opportunity for you to meet one of your local TDs face-to-face and:
Tell them that we need Climate Action Now
Ask them what they are doing or plan on doing to ensure Ireland meets its climate targets to keep us below a 1.5C rise in temperature since pre-industrial levels
Push them to pressurise their party leader to take the steps we know need to be taken in order to avoid climate chaos
We will be sending out more information soon, but for now all you need to do is put the date in your diary.
Here's hoping you'll join the movement for climate justice in Ireland. Let's together re-iterate the words of Hannah Fitzpatrick from the Dublin Ecofeminist Coven (pictured speaking at last week's demonstration), and tell TDs: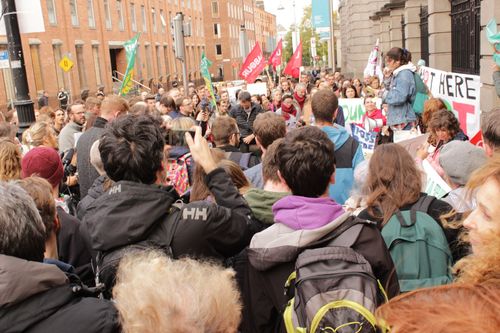 "We want change. And we want it now."

Meaghan Carmody
Mobilisation Coordinator
The Stop Climate Chaos Coalition